30 HOUR AMERICAN 'OG' WEIGHT 1.45kg
Part no.0235 000115
Available in 30 hour & 8 day sizes. Many American OG clocks had a slightly lighter weight on the strike side. These suit either train. Base diameter 60mm. Top diameter 45mm. Height 95mm. Inset hook.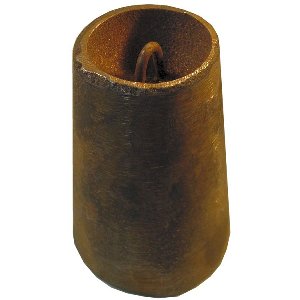 Cataloge chapter: Driving Force
Section: CAST IRON OG WEIGHTS FOR AMERICAN CLOCKS

O.G. WEIGHTS, WEIGHTS
You can buy this product from our Online Store at www.medmaw.com.
This product belongs to the following groups Clock weights |
---
We have an extensive range of clock parts and related products, please view the list of Categories and families here.
You can view and download our regularly updated online Catalogue here.
Last Updated: December,2017
©2005 M&P, All rights reserved.