SPRING STEEL 3m, 22mm x 0.35mm
Part no.1432 307815
Fixed lengths of clock-grade carbon steel, sheared ends only. We may be able to supply specific lengths, please phone with requests. View our make-your-own: SPRING GUIDE HERE. When we relocated to Brighton we found some spring steel, made in the UK 30 years ago. Sheared ends. Due to its age, some may have superficial rust marks. The quality is far in excess of that used by British spring makers today.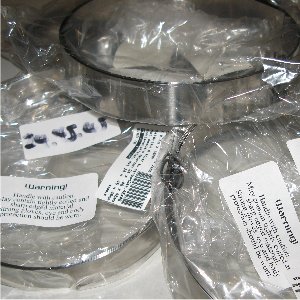 Cataloge chapter: Driving Force
Section: MAINSPRING STEEL IN COILS - VARIOUS SIZES

MAINPRING STEEL, SPRING STEEL LENGTHS

You can buy this product from our Online Store at www.medmaw.com.
This product belongs to the following groups Hole end mainsprings 20-30mm wide | Mainspring Material |
---
We have an extensive range of clock parts and related products, please view the list of Categories and families here.
You can view and download our regularly updated online Catalogue here.
Last Updated: December,2017
©2005 M&P, All rights reserved.