400 DAY CLOCK SUSPENSIONS .12mm
Part no.0401 005015
Available in a range of thicknesses. Length 140mm. Width 0.5mm Pack of 12 400 day wires. .127mm .0050inch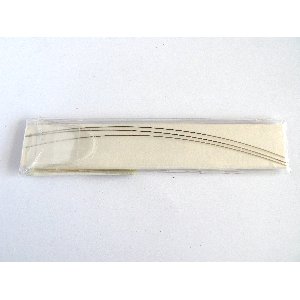 Cataloge chapter: Going Train
Section: 400 DAY CLOCK SUSPENSION WIRES

400 DAY SUSPENSIONS, ANNIVERSARY SUSPENSIONS, SUSPENSIONS, 400 DAY
Due to the wide variations in characteristics of spring steel and because many older suspensions were made of bronze, it is impossible to supply a replacement wire simply by measuring the old one. Only a laboratory can establish the spring characteristics of the material. It is most important that the correct wire be fitted if a lot of wasted time is to be avoided.
To establish the correct replacement, you must refer to 'Anniversary Clock Identification' by Mervyn Passmore (our part number 0412 21226) or the 'Horolovar 400 Day Repair Guide' (our part number 0412 000126) or send us an actual size scale drawing or photocopy of the blackplate of clock movement, showing all holes, screws and any text marked, for us to do this on your behalf. From this we can establish which factory made the movement. WE MAKE A SMALL SAMPLES CHARGE FOR THIS SERVICE. The name on the dial is often irrelevant. Please indicate whether a complete unit or just the wire is required. When only the wire is available, you may need to purchase a pack of blocks and forks. The kind of drawing we need to identify the model is shown. Please do not email it, because we cannot be certain that it will print out the same size. We have to compare your drawing with hundreds of similar actual size photos and drawings. Likewise, photos are no use for this purpose.
www.anniversaryclockidentification.com
has a free online 400 day movement identification system.
You can buy this product from our Online Store at www.medmaw.com.
This product belongs to the following groups Suspensions | Suspensions for 400 day clocks |
---
We have an extensive range of clock parts and related products, please view the list of Categories and families here.
You can view and download our regularly updated online Catalogue here.
Last Updated: December,2017
©2005 M&P, All rights reserved.