FRENCH CLOCK PENDULUM SIZE 0 / 32mm HOOK INCLUDED
Part no.0292 000015
Top of rod on standard rods is unthreaded, as this may need to be shortened. Standard pendulum with turned brass bob and central rating nut. 1 1/4inch diameter. 1 3/4 oz.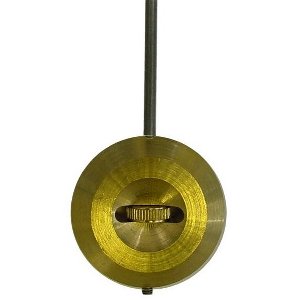 Cataloge chapter: Going Train
Section: FRENCH CLOCK PENDULUMS

FRENCH PENDULUMS, PENDULUMS

You can buy this product from our Online Store at www.medmaw.com.
This product belongs to the following groups Pendulums for French clocks |
---
We have an extensive range of clock parts and related products, please view the list of Categories and families here.
You can view and download our regularly updated online Catalogue here.
Last Updated: December,2017
©2005 M&P, All rights reserved.