LONGCASE BACK COCK, TWIN ARM.
Part no.1458 000215
Well constructed longcase back cocks. Brass. Suspension slot cut, with curved suspension seat. Not castings, but made from solid brass. For later clocks. Arm 44mm. Pivot hole 15mm from plate face. Blank so that holes can be created to suit.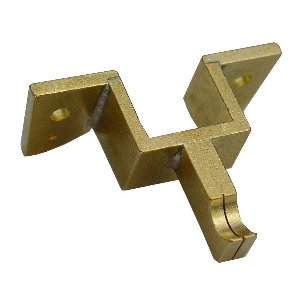 Cataloge chapter: Going Train
Section: BACK COCKS

BACK COCKS, LONGCASE BACK COCKS
You can buy this product from our Online Store at www.medmaw.com.
This product belongs to the following groups Suspensions | Suspensions, other |
---
We have an extensive range of clock parts and related products, please view the list of Categories and families here.
You can view and download our regularly updated online Catalogue here.
Last Updated: December,2017
©2005 M&P, All rights reserved.