PLATFORM ESCAPE WHEEL 8 LEAF. TYPE A
Part no.0307 100815
These only fit new platforms, supplied by us. They will not fit older units. Other counts available but as not interchangeable; platform & pinion must be ordered together. See Catalogue Appendix for more information. Module 0.219. External diameter 1.981mm. Pitch diameter 1.752mm.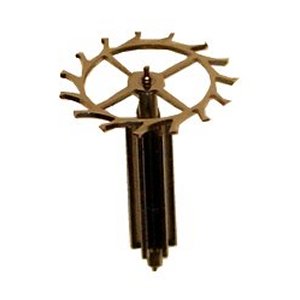 Cataloge chapter: Going Train
Section: PLATFORM ESCAPE WHEELS

ESCAPE WHEELS, PLATFORM PARTS
You can buy this product from our Online Store at www.medmaw.com.
This product belongs to the following groups Platform escapements | Platform escapement parts |
---
We have an extensive range of clock parts and related products, please view the list of Categories and families here.
You can view and download our regularly updated online Catalogue here.
Last Updated: December,2017
©2005 M&P, All rights reserved.