GONG RODS, TUNED SET OF 8
Part no.0387 000815
Steel. 4 gongs tuned for Westminister and 4 tuned for the hour. Longest rod 27inch. Please note: Due to difficulties packing and posting this item within Royal Mail's restrictions, this item is now sent via carrier. This will be reflected in the postage fee.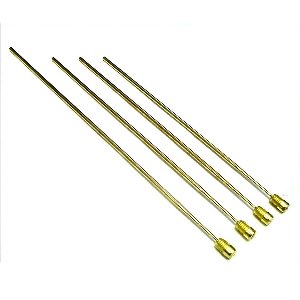 Cataloge chapter: The Striking Mechanism
Section: GONG RODS

GONG RODS
Fitted with brass screw threaded ends. The thread used is metric, particular to the gong industry (M6,5 x 1). The screw is formed to create a very tight fit. Length includes the screw. The length given is the longest rod in the set. See Catalogue Appendix for more information.
You can buy this product from our Online Store at www.medmaw.com.
This product belongs to the following groups Gong rods |
---
We have an extensive range of clock parts and related products, please view the list of Categories and families here.
You can view and download our regularly updated online Catalogue here.
Last Updated: December,2017
©2005 M&P, All rights reserved.