BLACKSTONE ANTI- CLOCKWISE CLOCK
Part no.0213 000115
190mm wide, 180mm print, 30mm deep.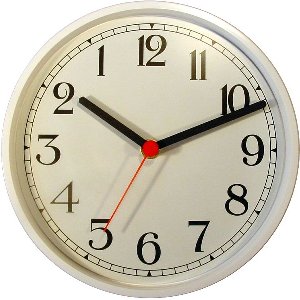 Cataloge chapter: Movements & Kits
Section: BLACKSTONE ANTI-CLOCKWISE CLOCK

ANTI-CLOCKWISE CLOCKS
Numbered and going anti-clockwise, the 'Blackstone' clock is an amusing and reliable timepiece; hang one on the wall and see who notices!
Battery operated quartz wall clock.
Circular white plastic case with metal dial.
Often to be seen in bars, hotels and kitchens.
You can buy this product from our Online Store at www.medmaw.com.
This product belongs to the following groups Complete clocks |
---
We have an extensive range of clock parts and related products, please view the list of Categories and families here.
You can view and download our regularly updated online Catalogue here.
Last Updated: December,2017
©2005 M&P, All rights reserved.