CHIMING QUARTZ MOVEMENT W/ PENDULUM: WESTMINSTER, BIMBAM, SILENT.
Part no.1045 000115
Movement: 110mm wide, 28mm hand shaft, 105mm high excluding hanger & pendulum support. Remote mounted speaker: 72mm wide, 58mm high, 22mm thick, with 245mm lead wires. Adjustable pendulum length, max.300mm. May also be used without pendulum. Requires 2 x 'C' batteries, not supplied.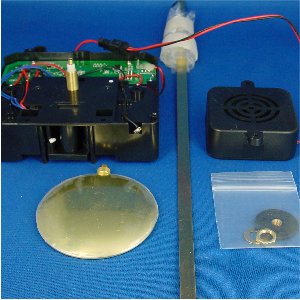 Cataloge chapter: Movements & Kits
Section: CHIMING QUARTZ MOVEMENT

QUARTZ MOVEMENTS, MOVEMENTS
Quartz movement with a choice of Westminster, 4x4 Westminster, 4x4 Ave Maria or Bim-Bam strike modes. Include a volume control knob, a "night silent" (no chimes from 11pm to 5.45am) 24hour On or Off'. The high quality sound is played through a small separate loudspeaker that can be mounted directly to the case. Excellent sound reproduction. Pendulum facilities are included as standard (length from centre to bottom, max 475mm), with brass bob and rod. Dials upto 13mm may be used. Full operating instructions are supplied.
You can buy this product from our Online Store at www.medmaw.com.
This product belongs to the following groups Quartz movements | Movements, other |
---
We have an extensive range of clock parts and related products, please view the list of Categories and families here.
You can view and download our regularly updated online Catalogue here.
Last Updated: December,2017
©2005 M&P, All rights reserved.