INSERTION MOVEMENT BACKPLATE KIT LARGE; 83mm
Part no.0546 160017
A range of movements complete with dials, that can be fitted into hollow or solid cases. This range uses the LR1 battery - not included. See battery section ref. 0349 000115 Includes backplate, with two 40mm extending pillars and two nuts.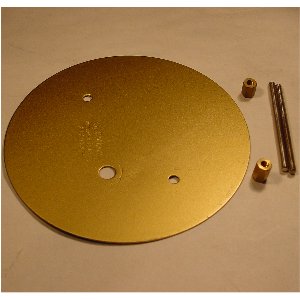 Cataloge chapter: Movements & Kits
Section: QUARTZ INSERTION MOVEMENTS

INSERTION MOVEMENTS, QUARTZ INSERTION MOVEMENTS
The range is fitted with centralised circular black plastic cased movements measuring 53mm outside diameter and 18mm thick. All feature bezel, dial, hands, seconds hands, and movement and come ready to use. Suitable for china, metal and wooden cases, the hole will need to have an outside diameter of at least 54mm wide, the bezel requires at least 5mm clearance, and each unit comes with 4 intergrated steel retaining wires which can be trimmed as required.
No backplate is included, however we do sell small (68mm) and large (83mm) backplates to fit these movements, as detailed below.
You can buy this product from our Online Store at www.medmaw.com.
This product belongs to the following groups Insertion movements |
---
We have an extensive range of clock parts and related products, please view the list of Categories and families here.
You can view and download our regularly updated online Catalogue here.
Last Updated: December,2017
©2005 M&P, All rights reserved.