PENDULUM DRIVE UNIT
Part no.0530 000115
Fits on our standard quartz unit (not included), to turn it into a pendulum movement. The pendulum has no bearing on the timekeeping. AA battery required. Rod length 250mm. (320mm from hand shaft to bottom of bob) 55mm bob. Contained in black box, length 140mm, width 60mm.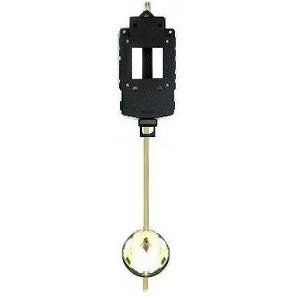 Cataloge chapter: Movements & Kits
Section: PENDULUM DRIVE UNIT

PENDULUM DRIVE UNIT, MOVEMENTS
You can buy this product from our Online Store at www.medmaw.com.
This product belongs to the following groups Quartz movements | Movements, other |
---
We have an extensive range of clock parts and related products, please view the list of Categories and families here.
You can view and download our regularly updated online Catalogue here.
Last Updated: December,2017
©2005 M&P, All rights reserved.