PUBLIC CLOCK RE-SYNCHRONISER
Part no.1189 000115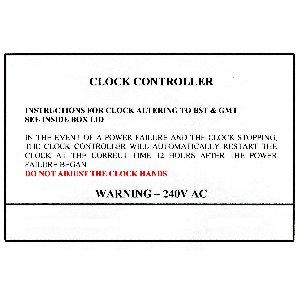 Cataloge chapter: Movements & Kits
Section: PUBLIC CLOCK RESYNCHRONISER

RE-SYNCHRONISERS
You can minimize the effect of power interruptions with this mains re-synchroniser. All breaks in the power supply are timed. After a power cut of at least 15 seconds, the mains supply to the clock is switched off for 12 hours less the accumulated time. This allows the clock to start again at the correct time.
Additional features include Summer/Winter (BST/GMT) adjustment at the press of a switch and clock power control. It is also fitted with an internal battery that has a minimum life of 5 years and is trickled charged from the mains. Up to four of our mains synchronous movements can be run from this unit.
Weight 800g. 180mm high, 230mm wide, 85mm deep.
You can buy this product from our Online Store at www.medmaw.com.
This product belongs to the following groups Exterior movements | Clock controllers |
---
We have an extensive range of clock parts and related products, please view the list of Categories and families here.
You can view and download our regularly updated online Catalogue here.
Last Updated: December,2017
©2005 M&P, All rights reserved.