IMITATION ENAMEL DIAL ARABIC 100mm.
Part no.0931 010015
Aluminium with a white 'enamel' finish. 1mm thick. Fine line inside time track. 10.2mm centre hole. Artificial enamel used so you can drill hole if needed. Dimension given is metal diameter. Diameter of printing = 86mm.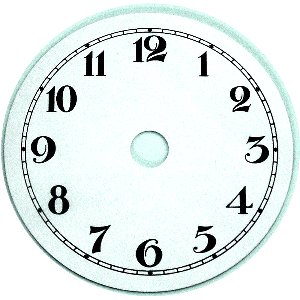 Cataloge chapter: Dials
Section: IMITATION ENAMEL DIALS ARABIC

ENAMEL DIALS, DIALS
You can buy this product from our Online Store at www.medmaw.com.
This product belongs to the following groups Metal dials Arabic |
---
We have an extensive range of clock parts and related products, please view the list of Categories and families here.
You can view and download our regularly updated online Catalogue here.
Last Updated: December,2017
©2005 M&P, All rights reserved.