MORBIER HANDS, HOUR: 135mm, MINUTE: 85mm. RUSTED.
Part no.1140 400418
Absolutely superb quality hand made steel Morbier hands for 'Cockerel Morbier' wall clocks(double convex shape dials). Rusty hands are available, ready to be brushed and painted. Minute length centre to tip. (Pairs) Measured from centre to tip.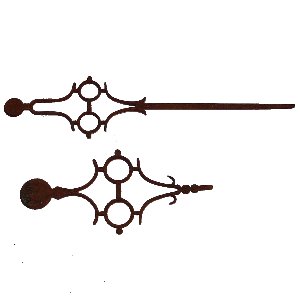 Cataloge chapter: Hands
Section: MORBIER HANDS

COMTOISE HANDS, HANDS, MORBIER HANDS
You can buy this product from our Online Store at www.medmaw.com.
This product belongs to the following groups Comtoise clock hands |
---
We have an extensive range of clock parts and related products, please view the list of Categories and families here.
You can view and download our regularly updated online Catalogue here.
Last Updated: December,2017
©2005 M&P, All rights reserved.