NAPOLEON CLOCK HANDS 69mm.
Part no.0790 006902
(Pairs) Black steel hands for Napoleon and other mass-produced movements requiring a strong pair of hands. Minute hand 69mm from centre to tip. Hour hand 53mm. Hour collet 4.4mm diameter, but could be enlarged to 4.8mm. Minute collet 2mm sq. which could be filed out to 3mm.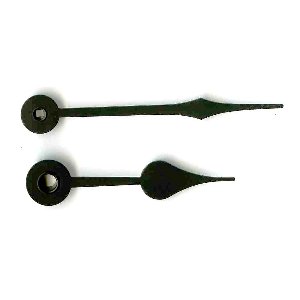 Cataloge chapter: Hands
Section: NAPOLEON CLOCK HANDS

NAPOLEON HANDS, HANDS
You can buy this product from our Online Store at www.medmaw.com.
This product belongs to the following groups English clock hands | German clock hands |
---
We have an extensive range of clock parts and related products, please view the list of Categories and families here.
You can view and download our regularly updated online Catalogue here.
Last Updated: December,2017
©2005 M&P, All rights reserved.