MORBIER BRASS BEZEL PEARLED
Part no.1118 233015
Pressed brass bezels for Morbier clock dials. Lugs at quarter-marks not pre-drilled. Add your own holes as required. Please note there may be some varation in style and finish. I/d: 225mm. O/d: 270mm.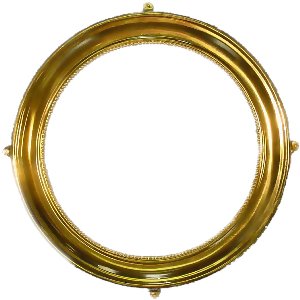 Cataloge chapter: Bezels & Glass
Section: MORBIER BRASS BEZELS

BEZELS, MORBIER BEZELS, COMTOISE BEZELS
You can buy this product from our Online Store at www.medmaw.com.
This product belongs to the following groups Bezels for Comtoise hands |
---
We have an extensive range of clock parts and related products, please view the list of Categories and families here.
You can view and download our regularly updated online Catalogue here.
Last Updated: December,2017
©2005 M&P, All rights reserved.