BRASS HANDLE 62 x 25mm
Part no.0438 622515
For carriage and bracket clocks. The wires can be adjusted slightly to suit existing handle centres.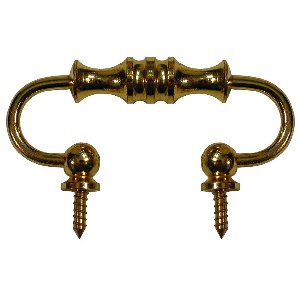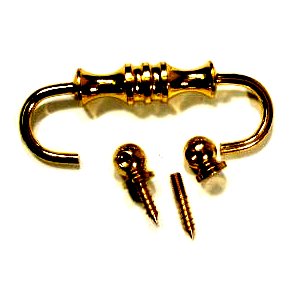 Cataloge chapter: Case Ornamentation
Section: BRASS HANDLES

HANDLES
CARRIAGE CLOCK HANDLE 62MM X 25MM BRASS Solid brass clock handle complete with two case fixings. Overall length 62mm. The fixings can be placed from 30mm to 47mm apart. Other widths can be obtained by bending the handle wires after they have been softened. Fully extended height when fitted to the case is 30mm. The round fixings can be screwed into wood, or secured from beneath with a threaded screw. Gilt finish. The ornate part of the handle is 34mm x 10mm.
You can buy this product from our Online Store at www.medmaw.com.
This product belongs to the following groups Clock handles |
---
We have an extensive range of clock parts and related products, please view the list of Categories and families here.
You can view and download our regularly updated online Catalogue here.
Last Updated: December,2017
©2005 M&P, All rights reserved.