CABINET LOCK, ESCUTCHEON & KEY, RIGHT HAND:
Part no.0651 000215
When described as handed, this refers to the throw of the lock. A left hand lock throws to the left and a right hand lock to the right when locked. All sizes are approximate.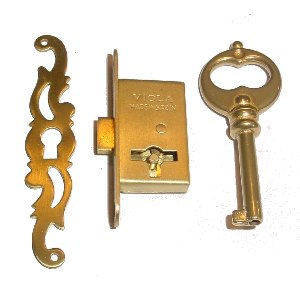 Cataloge chapter: Case Ornamentation
Section: LOCKS

LOCKS
Lock Casing: 28.5mm long x 16.5mm wide x 5mm thick. Face plate: 46.5mm long x 8mm wide. Bolt offset, one key supplied, keyhole centre to; face place outer edge, 9mm; to top of casing, 20mm. The bolt is 2mm x 9mm and throws to the right by 4mm. The works are steel but everything else is made of brass.
You can buy this product from our Online Store at www.medmaw.com.
This product belongs to the following groups Latches and catches | Brass ornaments | Locks |
---
We have an extensive range of clock parts and related products, please view the list of Categories and families here.
You can view and download our regularly updated online Catalogue here.
Last Updated: December,2017
©2005 M&P, All rights reserved.