LATEX FOR MOULDS
Part no.0916 025015
Latex 300g.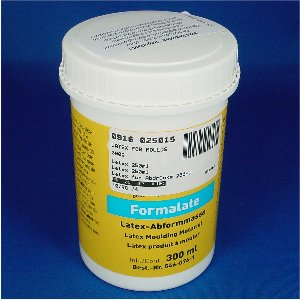 Cataloge chapter: Clockmakers supplies
Section: COLD CASTING

CASTING, COLD CASTING
Sometimes a small cast brass part needs to be replaced but the cost of conventional casting in molten brass cannot be justified. A new method of making these items involves mixing extremely fine brass dust with a thin clear resin and catalyst. The brass is not just filings, but a purpose made dust. The result can be cleaned with wire wool, polished with brass polish etc. to give an authentic appearance. You can cut, file & drill it but you cannot solder onto it. Items such as hinges must be cast in position. Moulds can be made from liquid latex, so you can simply make a copy of an existing foot or spandrel to make another.
You can buy this product from our Online Store at www.medmaw.com.
This product belongs to the following groups Case restoration |
---
We have an extensive range of clock parts and related products, please view the list of Categories and families here.
You can view and download our regularly updated online Catalogue here.
Last Updated: December,2017
©2005 M&P, All rights reserved.