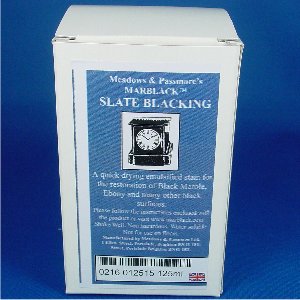 Cataloge chapter: Clockmakers supplies
Section: MARBLACK SLATE BLACKING 125ML

SLATE BLACKING, MARBLACK, MARBLE BLACKING
Black Slate Clocks are becoming more and more valuable every year, with increasing importance being attached to the condition of the slate case. There is no magic chemical formula for restoring a black mirror finish to dulled and greying slate (actually limestone). The correct method involves completely dismantling the case and repolishing each individual section with sophisticated polishing machinery. Dismantling can do more harm than good because the cases were often wired and cemented together very firmly, and re-polishing requires special skills.
To overcome this problem we introduced 'Meadows & Passmore's Slate Blacking ', a jet-black emulsified stain that enriches and blackens the surface in preparation for polishing with a good beeswax polish. It is not like black paint and cannot completely mask grey areas of oxidised limestone, but does considerably enhance the appearance of the case without making it look too 'done up'.
Slate Blacking is simple to apply. Full instructions are supplied and because of its concentration, a little goes a long way.
You can buy this product from our Online Store at www.medmaw.com.
This product belongs to the following groups Slate case restoration | Case restoration |
---
We have an extensive range of clock parts and related products, please view the list of Categories and families here.
You can view and download our regularly updated online Catalogue here.
Last Updated: December,2017
©2005 M&P, All rights reserved.