MOTHER OF PEARL, SCRAPS
Part no.0995 002415
Packs of 5 odd strips of 1.5mm thick 'scrap. Sizes vary, from approximately 25 x 30mm pieces upwards.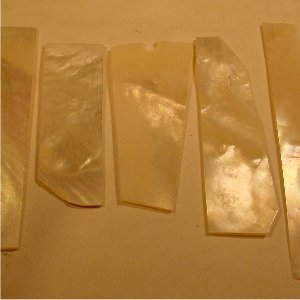 Cataloge chapter: Clockmakers supplies
Section: MOTHER OF PEARL

MOTHER OF PEARL
Genuine pieces of Mother of Pearl for repairing damaged and missing inlay. Two types are available. We supply high quality rectangles of guaranteed finish and dimensions ideal for escutcheons etc. or packs of smaller 'scrap' pieces for repairs. 80% of the surface of the scraps is useable and are excellent value when replacing flowers, shell patterns etc. as more than 20% is usually discarded anyway.
You can buy this product from our Online Store at www.medmaw.com.
This product belongs to the following groups Case restoration |
---
We have an extensive range of clock parts and related products, please view the list of Categories and families here.
You can view and download our regularly updated online Catalogue here.
Last Updated: December,2017
©2005 M&P, All rights reserved.