SILVER SOLDER 650C, 10g
Part no.0622 065015
Ready mixed solder and flux paste, making it easy to use with minimal wastage. Clean the parts to be joined, put a blob on one of them, hold together and heat until they fuse. 650 degree melting point.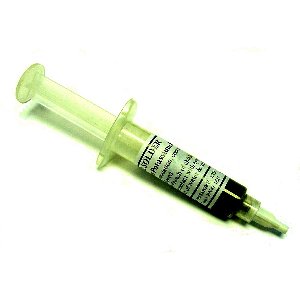 Cataloge chapter: Clockmakers supplies
Section: SILVER SOLDER

SILVER SOLDER
You can buy this product from our Online Store at www.medmaw.com.
This product belongs to the following groups Soldering and brazing |
---
We have an extensive range of clock parts and related products, please view the list of Categories and families here.
You can view and download our regularly updated online Catalogue here.
Last Updated: December,2017
©2005 M&P, All rights reserved.