BAROGRAPH CHART 300 x 90mm
Part no.0677 000915
Sold in packs of 50 charts. Universal chart, Monday start in inches. Grey.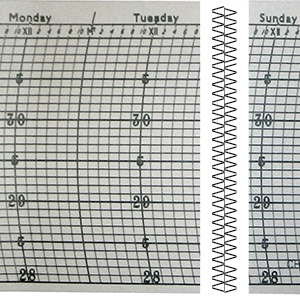 Cataloge chapter: Barometer Parts
Section: BAROGRAPH CHARTS

BAROGRAPH CHARTS, CHARTS
Printed on special paper to reduce ink spreading. Charts are normally retained by a clip or the ends are gummed. Universal charts can be used by either method, and where the ends are gummed, simply place one end over the the other and apply a touch of glue. Apply the minimum possible, to make the chart easy to remove at the end of the week. Charts start on Sundays or Mondays. Sunday start is normally useful in domestic situations. Changing the charts on Mondays is often more convenient in commercial applications. Inch or millibar calibration is a matter of personal choice.
You can buy this product from our Online Store at www.medmaw.com.
This product belongs to the following groups Barograph parts |
---
We have an extensive range of clock parts and related products, please view the list of Categories and families here.
You can view and download our regularly updated online Catalogue here.
Last Updated: December,2017
©2005 M&P, All rights reserved.