BAROMETER TUBE CLEANER 125ml
Part no.0799 012515
If you plan to use our kit to drain, clean and refill an old tube, you will need this concentrate to remove as many of the stains as possible. Dilute with 5 parts of warm water. You will need our filling kit to insert the cleaner and to rinse and dry the tube.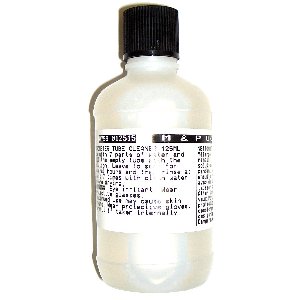 Cataloge chapter: Barometer Parts
Section: BAROMETER TUBE CLEANER 125ml

BAROMETER TUBE CLEANER, BAROMETER PARTS
You can buy this product from our Online Store at www.medmaw.com.
This product belongs to the following groups Mercury barometer parts |
---
We have an extensive range of clock parts and related products, please view the list of Categories and families here.
You can view and download our regularly updated online Catalogue here.
Last Updated: December,2017
©2005 M&P, All rights reserved.