COPPER GOLFER WEATHERVANE
Part no.0906 000515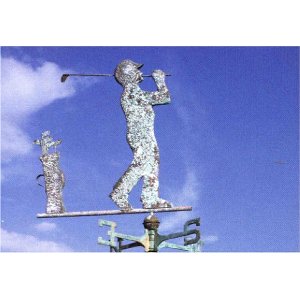 Cataloge chapter: Public Clocks
Section: WEATHERVANES

WEATHERVANES
Full bodied copper weathervanes with steel pole, copper spacer balls and cast brass directionals. They are not just flat profiles but hollow vanes which will move in the slightest breeze.
Each is treated with an aged finish that looks like verdigris and will continue to mellow in time.
You can buy this product from our Online Store at www.medmaw.com.
This product belongs to the following groups Weathervanes |
---
We have an extensive range of clock parts and related products, please view the list of Categories and families here.
You can view and download our regularly updated online Catalogue here.
Last Updated: December,2017
©2005 M&P, All rights reserved.